Before we go any farther, here's Tuesday's workout:
"Wittman"
7 Rounds
15 Kettlebell Swings (1.5/1)
15 Power Cleans (95/65)
15 Box Jumps (24"/20")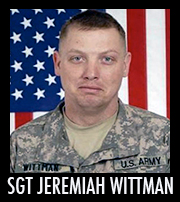 U.S. Army Sergeant Jeremiah Wittman, 26, of Darby, MT, assigned to the 1st Battalion, 12th Infantry Regiment, 4th Brigade Combat Team, 4th Infantry Division, based out of Fort Carson, CO, was killed on February 13, 2010 , when insurgents attacked his unit with a roadside bomb in Zhari province, Afghanistan.
He is survived by his daughters Miah and Ariauna, wife Karyn, siblings Robert H., Charity, Jenell, and Natasha, father Robert, and mother Cynthia Church.
Here's some WOD info for the coming weekend's in-house competition:
Possible Movements:
Power Snatch, Power Clean, Thruster, Front Squat, Push Press, Push Jerk, Lunge, Burpee, Bear Crawl, Kettlebell Swing, Row, Sandbag Carry
Weights; Rx and Scaled:
Barbell Rx 95/65, Kettlebell Rx 1.5/1, Sandbag Rx 75/50
Barbell Scaled 75/55, Kettlebell Scaled 1/12kg, Sandbag Scaled 50/25
WODs will not be announced until athlete and movement standard briefing at 8:45 AM on Saturday. Heat 1/WOD 1 should kick off at 9:00 AM and the remainder of the days schedule will be dependent on the number of participants. Fast and hard WODs with an end time around 12:00ish is the goal.